Electrical & Mechanical Testing
Over a decade of experience supporting industries with solutions and services for electrical and mechanical maintenance. Proud resellers for top manufacturers of:
Thermal Imagers
Power Quality Analyzers
Insulation Testers
Clamp-Meters
Multi-Meters
Process Calibrators
… More! 
Our certified experts have been at the foremost of thermal imaging application for industrial and electrical application, capable of advising a complete solution and guidelines for inspecting :
Electrical Panels
Transformers 
Medium / High Voltage Transmission lines 
Chillers and HVAC systems
Data Centers 
Thermal imaging in particular is one of the fastest growing areas of electrical and industrial troubleshooting and proactive maintenance. Range of available solutions, accessories and services include:
Thermal Imagers
Thermal Imaging multimeters
Infrared Thermometers
Thermal Imaging and Proactive maintenance training
Along with typically needed accessories and services:
Thermal Widows
Current Clamps
Power Quality Analyzers
Electrical PPE
Thermal Imaging / inspection report generation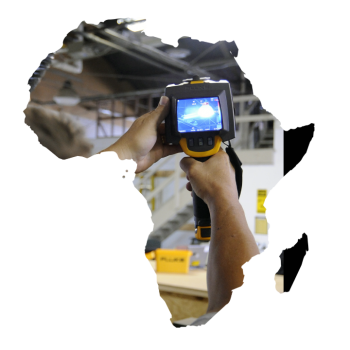 We can locate hard to find models, advise alternatives & replacements and integrate the optimum solution from multiple vendors, complete with accessories, training and support.
We consolidate and provide everything to you as one purchase and one shipment for ease of logistics and best price. We provide direct access to international stock for immediate delivery and direct shipping to major African cities.